"Best representation in the business! Mr. Trieschmann and Mr. Feldmeier are who you want to fight for you on appeal. Their knowledge is second to none and their results speak for themselves. They are a must have for anyone who wants a fighting chance!"
– Former Client Jason Pringle, Master Sergeant, United States Air Force, retired
Civilian Attorneys for Military Appeals and Courts-Martials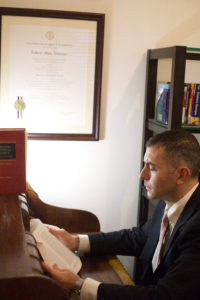 As highly experienced attorneys, James Trieschmann and Robert Feldmeier have spent over a decade each in the military justice system. Prior to starting the Law Offices of Trieschmann and Feldmeier, both served as active duty Judge Advocate for nearly ten years each. Both have tried numerous courts-martial, litigated appeals of court-martial convictions and represented servicemembers at administrative boards. James and Robert participated in hundreds of criminal cases involving rape, burglary, child pornography, drug distribution, fraud, sexual assault, larceny, and murder. These experiences have made James and Robert highly experienced attorneys, ready to assist servicemembers and their families.
Contact Trieschmann and Feldmeier